Be careful what you ask retired people
Yesterday I was at my favorite local supermarket buying a large bag of dog chow for my loyal pet, Biscuit, the Wonder Dog and was in the checkout line when woman behind me asked if I had a dog.
What did she think I had, an elephant?
Well, since I'm retired and have little to do, on impulse I told her that no, I didn't have a dog, I was starting the Dog Chow Diet again. I told her that it was essentially a perfect diet and that the way that it works is to load your pants pockets with chow nuggets and simply eat one or two every time you feel hungry. The food is nutritionally complete so it works well and I was going to try it again.
I added that I probably shouldn't, because I ended up in the hospital last time, but that I'd lost 50 pounds before I awakened in an intensive care ward with tubes coming out of most of my orifices and IVs in both arms.
(I have to mention here that practically everyone in line was now enthralled with my story.)
Horrified, she asked if I ended up in intensive care because the dog food poisoned me.
I told her no, I stepped off a curb to sniff an Irish Setter's butt and a car hit us both.
I thought the guy behind her was going to have a heart attack he was laughing so hard.
And now the market won't let me shop there anymore.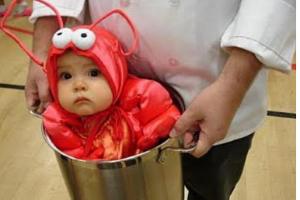 Advice From A Retired Husband:
It is important for men to remember that, as women grow older, it becomes harder for them to maintain the same quality of housekeeping as when they were younger.. When you notice this, try not to yell at them. Some are oversensitive, and there's nothing worse than an oversensitive woman.
My name is Ron. Let me relate how I handled the situation with my wife, Esther. When I retired a few years ago, it became necessary for Esther to get a full-time job along with her part-time job, both for extra income and for the health benefits that we needed. Shortly after she started working, I noticed she was beginning to show her age. I usually get home from the golf club about the same time she gets home from work.
Although she knows how hungry I am, she almost always says she has to rest for half an hour or so before she starts dinner. I don't yell at her. Instead, I tell her to take her time and just wake me when she gets dinner on the table. I generally have lunch in the Men's Grill at the club so eating out is not reasonable. I'm ready for some home-cooked grub when I hit that door. Esther used to do the dishes as soon as we finished eating. But now it's not unusual for them to sit on the table for several hours after dinner.
I do what I can by diplomatically reminding her several times each evening that they won't clean themselves. I know she really appreciates this, as it does seem to motivate her to get them done before she goes to bed.

Another symptom of aging is complaining, I think. For example she will say that it is difficult for her to find time to pay the monthly bills during her lunch hour. But, boys, we take 'em for better or worse, so I just smile and offer encouragement. I tell her to stretch it out over two or even three days. That way she won't have to rush so much. I also remind her that missing lunch completely now and then wouldn't hurt her any (if you know what I mean). I like to think tact is one of my strong points..
When doing simple jobs, she seems to think she needs more rest periods. She had to take a break when she was only half-finished mowing the yard. I try not to make a scene. I'm a fair man. I tell her to fix herself a nice, big, cold glass of freshly squeezed lemonade and just sit for a while. And, as long as she is making one for herself, she may as well make one for me too.
I know that I probably look like a saint in the way I support Esther. I'm not saying that showing this much consideration is easy. Many men will find it difficult. Some will find it impossible! Nobody knows better than I do how frustrating women get as they get older. However, guys, even if you just use a little more tact and less criticism of your aging wife because of this article, I will consider that writing it was well worthwhile. After all, we are put on this earth to help each other.
Signed,
Ron
EDITOR'S NOTE: A few weeks after sharing this advice, Ron died suddenly of a perforated colon. The police report says he was found with a Calloway extra-long 50-inch Big Bertha Driver II golf club jammed up his rear end, with barely 5 inches of grip showing, and a sledge hammer laying nearby. His wife Esther was arrested and charged with murder. The all-woman jury took only 10 minutes to find her Not Guilty, accepting her defense that Ron, somehow without looking, accidentally sat down on his golf club.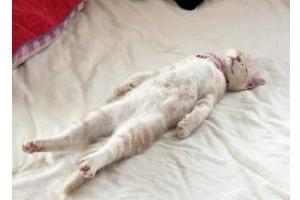 Cinderella turns 95
After a fulfilling life with the now dead prince, Cinderella happily sat upon her rocking chair, watching the world go by from her front porch, with a cat named Bob for companionship.

One sunny afternoon, out of nowhere, the fairy godmother appeared.

Cinderella said, "Fairy Godmother, what are you doing here after all these years"?

The fairy godmother replied, "Cinderella, you have lived an exemplary life since I last saw you. Is there anything for which your heart still yearns? If so, I will grant you three wishes"

Cinderella was startled, but overjoyed, and after some thoughtful consideration, she uttered her first wish.

"The prince was wonderful, but not much of an investor. I'm living hand to mouth on my disability checks, and I wish I were wealthy beyond comprehension."

Instantly her rocking chair turned into solid gold.

Cinderella said, "Ooh, thank you, Fairy Godmother."

The fairy godmother replied, "It is the least that I can do. What do you want for your second wish?"

Cinderella looked down at her frail body, and said, "I wish I were young and full of the beauty and youth and vitality I once had."

At once, her wish became reality, her beautiful young body returned and Cinderella felt stirrings inside her that had been dormant for years.

The fairy godmother spoke once more. "You have one more wish. What shall it be?"

Cinderella looked over to the frightened cat in the corner and said, "I wish for you to transform Bob, my old cat, into a kind and handsome young man."

Magically, Bob suddenly underwent so fundamental a change in his biological make-up that, when he stood before her, he was a man so beautiful the likes of him neither she nor the world had ever seen.

The fairy godmother said, "Congratulations, Cinderella, enjoy your new life."

With a blazing shock of bright blue electricity, the fairy godmother was gone as suddenly as she had appeared.

For a few eerie moments, Bob and Cinderella looked into each other's eyes.

Cinderella sat, breathless, gazing at the most beautiful, stunningly perfect man she had ever seen.

Then Bob walked over to Cinderella, who rose, transfixed, from her rocking chair, and held her close in his young muscular arms. He leaned in close, his warm breath blowing her golden hair as he whispered, "Bet you're sorry now that you neutered me."
You Know You're Having A Bad Day When...
Your horn sticks on the freeway...behind 32 Hell's Angels motorcyclists.
You invite a peeping Tom in...and he says no.
Your twin sister forgets your birthday.
Everyone avoids you the morning after the company office party.
Your income tax refund check bounces.
It costs more to fill up your car, than it did to buy it.
Your blind date turns out to be your ex.
Your doctor tells you that you're allergic to chocolate.
Nothing you own is actually paid for.
The health inspector condemns your office coffee maker.
People think that you're 40, and you're only 25 !
When the doctor says you are in fine health for someone twice your age.
You call your spouse and tell her that you'd like to eat out tonight, and when you get home, you find a sandwich on the front porch.