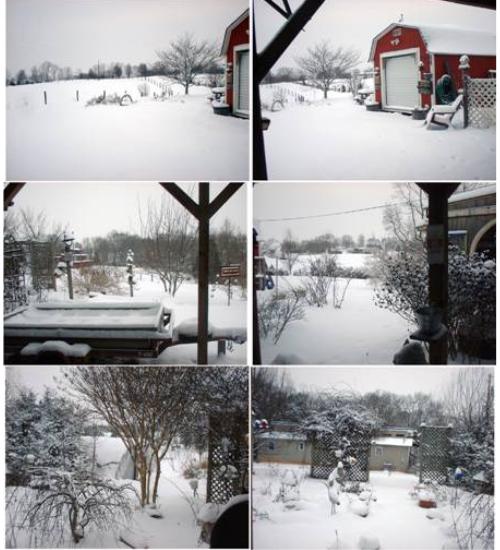 1/30/10
This morning greeted us with a loud silence and the reason was the land was covered with about 7 inches of snow which is apparently the largest snowfall in this area in 14 years. It was 27° at 7 a.m. and I do not think it raised much above that during the day.
It sure was pretty and I could have done without it. So we both just vegetated today with reading, crossword puzzles, TV and falling asleep in our chairs. We cannot even take the mail to the post box at the end of the driveway.
1/29/10
Cold today with temperature at 22° at 8 a.m. and I was feeling sorry for myself until I opened up Donna's email which said, "Minus 5 degrees today and the wind chills today are going to be 25 below----during the DAY! Super cold weekend heading out this way & we are not going skiing!"
It started snowing today at 2 pm and at 11:30 pm it is still snowing and that will closed down our part of KY tomorrow since we have no plows etc.
1/26/10
Waking up this morning to a small blizzard like landscape with the ground covered completely in white made me want to go back under my duvet and sleep until the flowers were up.
1/24/10
The temperature was 52° at 8 a.m., but raining cats and dogs as the saying goes. Did you know that saying came from Europe when cats and dogs kept warm up on thatched roofs and when the roofs gave way they fell through, hence "Its raining cats and dogs!"
The rain started about 1:30 am and by 2 a.m. there was a thunder and lightening storm so bad that I ran around unplugging TVs, computers, etc.
1/23/10
The temperature was 47° at 8 a.m. and got to be 62 by noon. Even at 6 pm the temperature was still 55° and that was nice.
1/22/10
It is gloomy and overcast again today. Temperature was 42° when I awoke and there were lots of things to be done on the computer and websites today. The temperature never went higher than 48° today and when we took a run into town it was damp and cool and very gloomy.
1/21/10
As I said it was a rainy day all day today, but it was 52° at 8 a.m. this morning and mild all day.
1/19/10
The weather, though overcast today got up to the mid 50's.
1/15/2010
It was 41° at 8 a.m. and it got to be 64° by 3 p.m. today. It was a wonderful day for working and moving things from the little school to the Creativity Center.
1/14/2010
Even though it was 17° at 7:30 a.m. it warmed up by noon and we lost some more snow.
1/13/10
The snow is finally melting away and another warm day should get rid of it all. It seems less cold with the fields clear of the white stuff.
1/12/10
It is still cold and overcast upon waking up today.
1/11/10
Today is another cold day today with snow and ice still on the ground. I will be glad when it is all gone. Roads are clear but the parking lots etc have dangerous walking patches.
1/8/2010
It was 13.7° on Carl's atomic clock at 7:30 am today and some primeval animal instinct kicked in like it did yesterday when I saw all that snow and cold and I want to crawl back into bed. All my energy seems to want to hibernate until it is at least 40° out there.
1/6/2010
We awoke to another day of 17° weather and I personally do not know how all our dear friends and family members still survive in the North Country!
1/5/2010
It is another bitter cold morning here for this part of the world. At breakfast this morning we enjoyed watching a large doe and stag browsing and foraging for grass or whatever on our lawn as we viewed them through the large dining room area.
It was 12° here and did not go above 17°, but we had clear skies.
12/26/09
This morning was 34°, raw and windy.
By noon the temperature had dropped down to 42°.
12/25/09
We woke up to rain and 54° and here was another Christmas morning.
12/23/09
We awoke to 27 degrees and gray skies at 6:30 am today and by noon it was 51° with the skies still gray, but the sun really trying to shine through as evidenced by a big white circle in the grayness.
12/24/09
The temperature was 47° at 6 am and it was a beautiful red sky sunrise.
The temperature is 52° at 10 pm tonight. Another Christmas eve and all is well in our world.
12/20/09
We woke up this morning to our first snow just 1 day before the 1st day of winter. It was merely a dusting that consisted of a light covering on the roofs and the flat tops of the pergola, arbors, flat surfaces of the planters and hardly anything on the ground as more ground was showing than snow. Plus it was 36 degrees when I got around this morning so it was all gone by 11 am.
12/19/09
It is raining again today, but quiet, unlike yesterday morning.
12/18/09
It was a rainy day today.
12/17/09
The temperature went from 27 degrees this morning to 43 by noon and the sky was fairly clear.
12-14-09
By noon it was 61 degrees and by 3 pm it was up to 63 degrees. Skies were clear blue except for clouds and upon arriving home we discovered clouds we had never seen before near our home like great swatches of grey clouds that looked like someone had drawn a giant feather through all of them leaving them looking like wispy horizontal paintings of clouds in the sky.
12/12/09
Warmer this morning and eventually got up to 45 today.
12/11/09
It was 14 degrees this morning here in beautiful Munfordville.
12/10/09
I shivered when I saw the thermometer was at 26 degrees at 8 a.m. this morning and then I got an email from Donna saying they were in the middle of a blizzard. So we were not too bad off as the wind had died down considerably here and the sky showed patches of blue.
12/9/09
The temperature was 50 degrees at 7 a.m. this morning and grey skies again, but the wind was blowing between 35 and 55 mph at times during the day. Tree limbs all over the place and at one time when I came out from my meeting I could hardly walk against the wind. It rained on the way over to the meeting, but about 8:55 a.m. the clouds broke and the most beautiful and biggest rainbow I have ever seen appeared.
12/7/09
I think the cold spell has broken as it was 40 when my feet hit the floor at 6:30 a.m. today. However, it was grey skies again and by 8:30 it started to drizzle and an hour later we had a good rain.
12/4/09
Cold here again with 30 degrees this morning and it was another morning of computer work.
12/2/09
Today was a rainy day all day today and in the high 40's. I finished my wine bottle cheese trays today and got some small wooden frames stained today for the signs needed in the Garden Cottage.
12/1/09
We woke up to a very heavy frost this morning and the temperature was 30 degrees as I headed out to my doctor's appointment wrapped up in scarf, gloves and my garden cap Glynis has bought me in Virginia City, NV.
By it had warmed up about 15 degrees
11/30/09
We had a big night of rain and drizzles all day. We had to go and get a replacement faucet today. It was only in the 40's all day today
11-29-09
Today we awoke to 44 degrees, windy and overcast, but by the skies was clear and the temperature was up to the high 50's.
11/28/09
It was 27 degrees at this morning and 67 by
11/27/09
Windy again today and about 37 degrees at
11/26/09
It was 40 degrees at this morning and very windy with a slight overcast
11/25/09
I awoke at to 46 degrees, slight wind and an overcast sky.
11/24/09
Same deal today. 52 degrees at 7 am and very overcast.
11-23-09
Raining or trying to all day.. temperature in the mid to high 50's.
11-22-09
We currently have cool mornings and get between 55 and 74 by noon.. so no snow.
11/21/09
We are up at and hit the road by to be ready to set up at . The temperature was 33 when we headed out, but it warmed up quickly and became a nice day
11-16-09
A beautiful day again today, but it started out as overcast...
11-03-09
It was a sunny day today and in the high 60's so I repainted a wrought iron table and chair set
10-31-09
We had tremendous winds with a high of 79 yesterday and we were able to sit out on the patio last evening at a wonderful 72 degrees. About 7 pm. the rain started and it rained all night. Over cast this morning and 50 degrees.
10-26-09
Nice today in the 70's, but it was 47 early this morning.
10-25-09
Real quiet here today and though it is Sunday Carl really is working straight out in the stained glass studio on this new panel. The maples are turning and when the sun is on them they are pure gold and red and a wonderful sight.
10-24-09
The weather was a beautiful 73 degrees today and though we had a big rain last night the skies eventually cleared and by late afternoon it was lovely.
10-18-09
We finally have a sunny day today after a week of overcast and rain weather. Mornings are in the mid to hi 40's and mid day we get high 60's to low 70's and then back down again in the evening.
10-07-09
Great rains have visited us for the past week, many of them producing flash floods in many places of KY
09-30-09
We had the rain. now bright and cool.
09-21-09
We are enjoying some lovely rains for the past two days.
08-22-09
Weather has broke here finally and in the low 70's today.
07-26-09
We had a week in the mid 70's with cool evenings and about an hour or two of late night showers every other evening. The weeds are up around our necks again as my young man has moved away and I need to find a substitute.
6/30/09
Another month flown by. The heat has abated here and we awake to mornings in the mid 60's which allows us to open the doors until about noon when it gets up into the mid 80's. The crepe myrtles are in full bloom as are the Cleome, Glads, Holly hocks and lots of other garden pretties.
6/27/09
It has been hot here each day for a week, often interrupted by incredible thunderstorms with 50 -60 mile wind weather alerts. Anyone who says we are not experiencing climate change has their head in the sand. We have lived here for 10 years now and last year we started to see weather changes like never before only to be surpassed by this year to date.
06-21-09
Now that it has stopped raining the weather has been dry and hot in the mid 80's to the low 90's for the past few days. It keeps me indoors.
5/18/09
Yesterday and today we have bright sunny skies though the mornings were in the high 50's . Great days for outside work. Especially after days and days of torrential rains.
05-03-09
We have had a week of rain and it is still raining and it appears it will be raining all this coming week...
I finally found 3 reliable workers for my gardens and they cannot work because of this rain.
4/13/09
We awoke today to overcast skies we decided, since the forecast was rain, we would run a long list of errands. By 11 am we had beautiful cloudy blue skies. The kind of clouds that makes an artist want to stop doing whatever is being done and get out the pastels, oils, acrylics or watercolors and start painting. I could not take my eyes off these ever changing sky scenes. Such beauty and most people miss it.
The redbud trees are in bloom all over KY and the dogwood trees are popping out in profusion. We get a lovely view of the ones that grow in George and Barbara's woods from our carport. The mid spring daffodils are out and other mid spring bulbs. Again this winter we lost a lot of tulips. However, the violets are all over the place and the grape hyacinths are popping up and some of them in the darnest places. I see the bleeding hearts are out and the lilacs are starting to bloom. Plus the weeds are in profusion already.